Loans can help you make purchases, bridge a short-term cash flow gap, or build a long-term asset such as a home. Most financial institutions, including banks, non-banking finance companies (NBFCs), and housing finance companies (HFCs), offer a variety of loans to meet the needs of their customers.
Customers can choose between home loan or personal loan based on their specific needs. Borrowers typically seek out home loans when they are ready to make their own purchases. A personal loan, on the other hand, maybe the ideal solution if you need a little more money for a down payment.
A home loan, as the name implies, is the amount of money borrowed from a bank or other financial institution to purchase a residential or commercial property after meeting certain loan eligibility criteria. The borrowed funds must be repaid to the lender in easy monthly instalments (EMI) at a set interest rate. Many banks and financial institutions provide loans to help you buy or build your dream home. Loans for renovation or extension are also available.
The most common type of loan used to purchase real estate. Housing finance can cover up to 80-90% of the market price of a home.
It gives you money to renovate or improve the condition of your home.
This type of loan is used to build a new house.
Assume you are dissatisfied with the service provided by your current lender. In that case, you can transfer your loan's outstanding balance to a different lender who offers a lower interest rate and better service. After the transfer, you can even consider a top-up loan on your existing loan.
This loan combines the financing for the plot of land on which you want to build a house as well as the construction into a single loan.
What Is the Purpose of a Home Loan?
Buying a pre-owned house or apartment
One of the most common types of home loans is for the purchase of a new or used property. Many banks offer this type of loan in various forms.
Several financial institutions offer land purchase loans. Buying land is a flexible option because the buyer has the option of saving money and building a home when his resources allow it, or simply keeping the land as an asset or investment in the long run.
In this case, the loan is intended for people who want to build a home from the ground up rather than buy one that is already built. This type of loan has a unique approval procedure because it takes into account the cost of the land as well.
Many financial institutions offer loans for home improvement projects such as painting, installing overhead water tanks, and electrical restoration, among other things.
Banks also offer loans for home expansion, which may include structural changes as well as the addition of additional rooms, balconies, and so on.
Tax Advantages of Home Loans Section 24B of the Indian Income Tax Act allows for a deduction of up to Rs 2 lakh on the interest portion. Income tax deductions are only available after the house is finished. You cannot deduct income taxes while the property is being built.
Tax Break on Second Home Loan
If you purchase a second home, you will be eligible for an income tax deduction under section 2B of the Income Tax Act.
Home Loan Balance Transfer
It allows you to transfer your balance to another lender with a lower interest rate.
Ease of Purchasing a New Home
It makes it simple to purchase a new home with one's own money because it can be repaid in simple monthly instalments.
It has the longest repayment period, up to 30 years, and by extending the loan term, one can reduce EMI liabilities.
It allows you to purchase your own home, eliminating the need to pay rent. It is preferable to pay EMI on your own home.
A Personal Loan is an unsecured loan that can assist you in meeting your current financial obligations. The loan is available with minimal documentation and does not require you to pledge any security or collateral. The personal loan lump sum can be used to cover expenses such as home renovations, wedding expenses, medical emergencies, funeral costs, and so on. A Personal Loan can also be used to consolidate debts or to alleviate a liquidity crisis.
A Personal Loan provides you with a lump sum of money to use all at once. You repay the loan amount plus interest in monthly instalments over the loan term. Most people prefer personal loans to credit cards because personal loans frequently have lower interest rates than credit cards.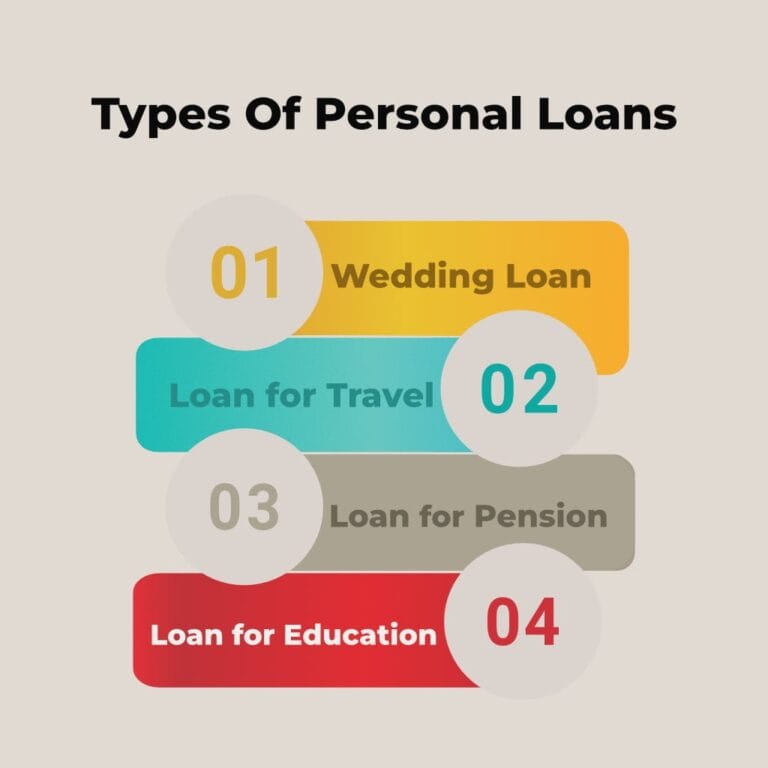 Personal loans are available in India in the following forms:
Weddings are a very important occasion in India. They come with a laundry list of costs. We all want this day to be memorable for ourselves and our children, and there is nothing we wouldn't do to make that happen. As a result, many lenders have begun to offer personal loans for weddings, allowing us to make our special day even more memorable. Loans can be obtained by prospective brides, grooms, or family members. The loan amount in this type of personal loan can be tailored to the individual's needs.
This is intended for people who enjoy going on vacation. They are known as travel/vacation/holiday loans, and they allow you to travel the world while paying your bills later with holiday loans. In order to provide foolproof protection, this type of personal loan frequently includes travel insurance as an added benefit.
Pension loans are intended for retired military personnel. As a result, the standard eligibility criteria do not apply to this loan. In this type of personal loan, some banks offer several times the amount of pension the pensioner would have received in the month preceding the loan application. Pension proof is required, according to the personal loan eligibility calculator.
This is one of the most common types of personal loans and has been around for a long time. In most cases, parents take out education loans, which their children then repay. Also known as school fee funding, such a loan can be used to pay one's child's tuition fees or a large academic requirement such as going abroad.
What Is the Purpose of a Personal Loan?
Here are six scenarios in which a personal loan could be useful:
1. Purchase new electronic appliances
Personal loan funds can be used to purchase new electronic equipment such as refrigerators, washing machines, televisions, air conditioners, and so on. A growing family or aspirations necessitates that the appliances in the home be up to date and meet the needs of everyone.
2. Purchase the most recent smartphone
As consumers advance in their careers, they prefer to have the most recent smartphones in their hands. Furthermore, smartphones have evolved into mini-computers / mini-laptops, and a large portion of office work is now completed on a good smartphone. As a result, consumers can obtain a personal loan to meet this need/desire.
3. Sponsor wedding expenses
Weddings are one of the most expensive financial investments in India. Weddings are becoming more expensive by the year. You can use a personal loan to cover the costs of your or your children's wedding and ensure that everything runs smoothly.
4. Prepare for medical emergencies
Medical emergencies, such as car accidents, critical illnesses, and serious injuries, often occur unexpectedly. In such cases, financial assistance from a personal loan is extremely beneficial. With a personal loan, you can get the best treatment possible without worrying about money. The loan's lump sum can be used to cover your treatment costs.
5. Pay for higher education expenses
Pay for higher education expenses As a parent, you can take out a personal loan to cover your children's higher education expenses.
6. Achieve travel goals
Most people wait for sufficient funds to fulfil their travel dreams. However, life is too short to be spent waiting for the right moment. If travelling is your passion, you can finance it with a personal loan.
Benefits Of Personal Loans
Let's take a look at some of the most important advantages of personal loans.
1. Rapid Approval
In most cases, we mean within 24 hours! A personal loan takes much less time to process than a home loan, which can take 3-4 weeks. As a result, they are your best bet for meeting your immediate cash or payment requirements.
If your credit history is solid (CIBIL score of 750+), lenders will have no trouble approving your personal loan application.
2. There is no need for a collateral
Personal loans are unsecured, which means you don't have to put up any collateral to get them. This is why personal loans are easier to obtain than other types of loans such as home loans, auto loans, and so on.
However, as a customer, you should be aware that unsecured loans are riskier for lenders, so interest rates are typically higher to mitigate the risk, and are typically 1.33% or higher per month.
3. Versatility
A personal loan will be useful regardless of the use case, whether it is for an iPhone purchase, a Swiss vacation, or a home renovation. Furthermore, unlike home loans or auto loans, a single loan can be used for multiple purposes.
One of the reasons personal loans are so popular today is because of their flexibility.
4. Improves credit score
If you have a low credit score or are new to credit, taking out affordable personal loans and repaying them on time is a great way to improve your score. Your credit score will improve as you pay your EMIs on time and at the predetermined interest rate.
However, it is critical to obtain a loan amount that is within your repayment capacity. If not, missing EMI payments can harm your credit score.
5. Minimal documentation and accessibility
One of the most significant advantages of online personal loans is the lack of documentation requirements. Loan providers only require three documents, all of which can be submitted online.
Not only that but the application process is designed with the customer's convenience in mind. These loans can be obtained online in minutes, with amounts ranging from Rs. 5,000 to Rs. 5,00,000 and repayment terms of up to 60 months.